ACC Fashion Design hosted its first Fashion Showcase EMERGE. This static display featured the graduating students of 2022. The showcase displayed the year-long process that the designers worked on. The class started with FSHD 2343 Fashion Design Collection in Fall 2021. In this class the students created their collection and started the process of bringing their company and their sketches to life. Spring 2022, the graduating students were hard at work on their capstone course, FSHD 2344, and finalized the production of their unique collection with several looks on display during the showcase.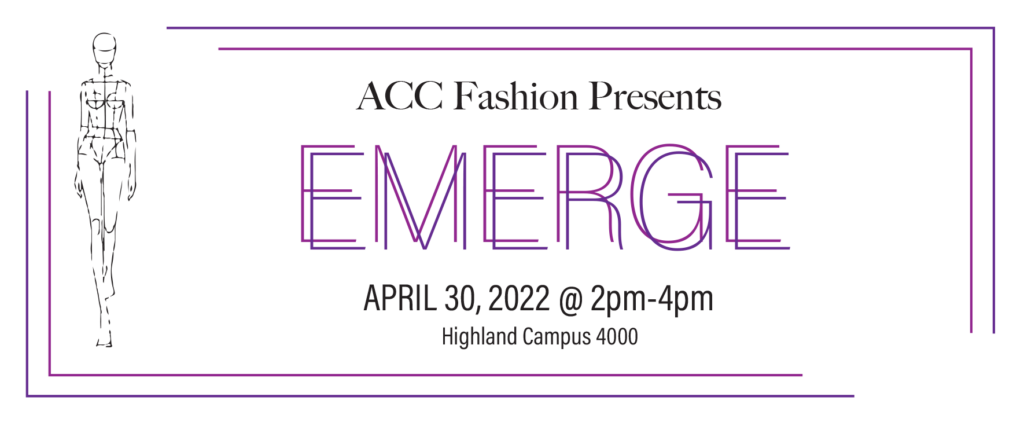 This capstone course, with the final project being the Fashion Showcase EMERGE, is a culmination of the entire educational program and brings together all of the pieces that the students have been working on.  At the start of the Fall semester in 2021, the Collection class students develop a mood board  and unique textiles design using the skills they have learned in FSHD 1346 Fashion Illustration Media, where they learn to create a mood board and design a seamless repeat textile design. This design is sent off to a printer in early Spring and you will see some of the students' designs transformed into garments using this textile print.  They have honed their skills in FSHD 1322 Fashion Sketching where they have learned to sketch their ideas in a way to bring that design to life.  The major skills are further demonstrated from the extensive courses taken in flat pattern design FSHD 1328 and FSHD 1355, draping, FSHD 2306 and construction of production garments FSHD 1324 and FSHD 1351.
The Collection class went beyond the boundaries of the classroom and collaborated with other departments at ACC. The first collaboration was with the Graphics Design class, in the Visual Arts dept, that worked within the parameters and those students have created the unique graphic and media signage for this showcase. The next collaboration was working with the Photography department and the Fashion Marketing department in a real world experience of a photoshoot. The Collection designers worked closely with their individual photographer and with the students from the Fashion Image class. Together, the three classes were able to experience a real world example of a fashion photoshoot, relying on the various expertise of the students to bring their knowledge from the classes to make it a successful experience.
We look forward to seeing you at the showcase and know you will enjoy seeing the hard work from these talented students ready to EMERGE out into the world as talented designers.
Candy Morales
A Woman Art
My collection is inspired by a Van Gogh Painting the Starry Night, it's a combination of elements and personal taste in fashion and silhouettes, very feminine, fun and Sexy, it's a bespoke Collection, each outfit belongs to a specific Woman that gives life to the outfit, a beautiful and Strong Woman with Dreams and Determination.
Photographer: Cheryl White
Stylist: Azadeh Beeshti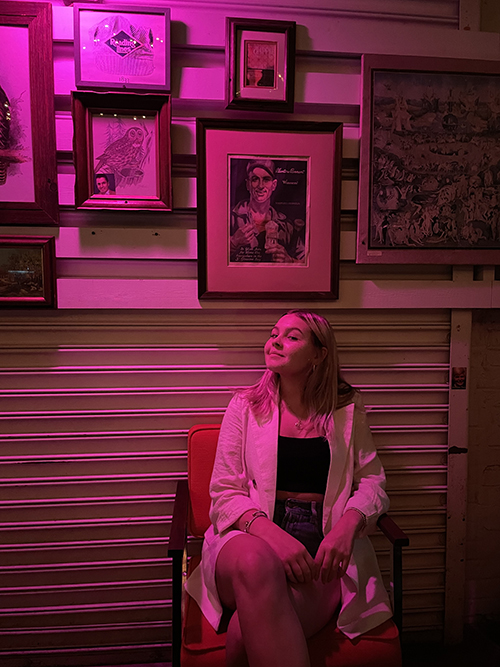 Harley Dotson
SHE.E.O.
My textile was hand drawn, by me, on a piece of paper. Then transferred into Adobe Illustrator, where I was able to make changes to it digitally. There are not a lot of floral prints that I like, so I wanted to create a floral print that I would actually wear.
I wanted to create pieces that are made to transition from day to night time. My idea was to have contrasting items with each look. For example: Trousers and a corset. I had a young business woman in mind while designing. Trying to make clothing for someone who is intelligent and hard working, but also loves to have fun and let loose.
Tiana Wanson – Photographer
Idaly Soto – Stylist
Katherine Ponce – Stylist
https://www.harleyrushdotson.com/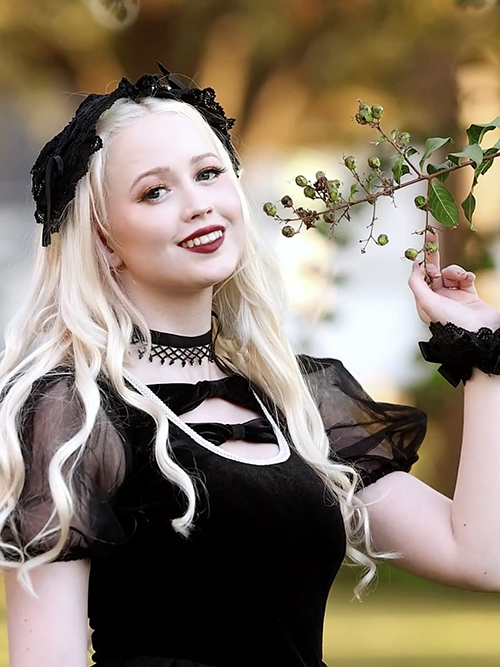 Fair Allen
Eidolic Romance
Gate and Flowers Print: My inspiration for this print was nature, and gothic architecture. I decided to incorporate flowers and hearts into the gate design, along with the s-scrolls. I looked at many forged iron objects such as gates, picture frames, and window fences. I also spent many hours looking at flowers, photographing them, and drawing them before deciding to render burgundy anemones. I used this print along the border of the gown, keeping the rest of the design simplistic in order to focus the attention on the artwork itself.
Black Roses Print: I wanted the roses to be in line with my architectural gothic aesthetic. Stylized roses are typically drawn with rounder and softer petal shapes. However, I decided to draw inspiration from thorns and the pointed arches present in gothic architecture. This led me to draw roses with sharp edges, which are cohesive with the structural neckline of the gown.
I used the word "eidolic" to describe this collection due to its meaning: "something or someone who is ideal and perfect, or something that doesn't exist." I thought the contronym followed by the word "romance" encompassed the nature of love, and the story of this collection. As humans we idealize and strive for perfection while knowing no such thing exists. My inspiration was found in nature, gothic architecture, and Victorian era fashion. I imagine these gowns being worn during an evening wedding taking place in a dark alluring garden. My intention was to design bewitching gowns for a bride that likes gothic, elegant, and romantic styles.
Photographer: Steven Behnke.
Stylists: Dusty Friday & Sumaiya Rahman.
Instagram: @garnet.gardenia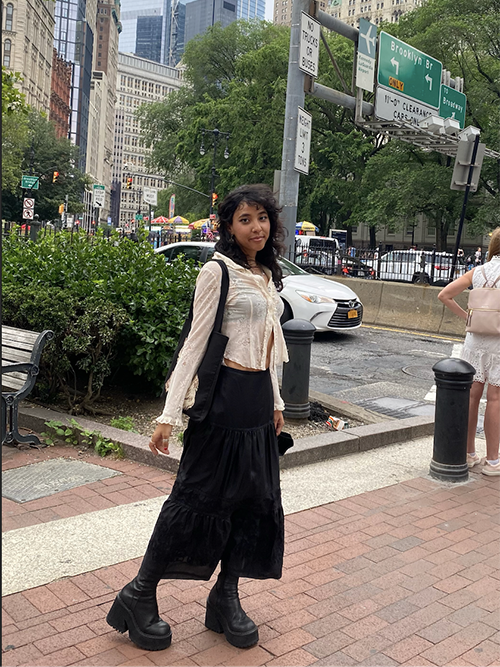 Polly Robles
Twisted Fate
Tale of a woman who fell in love with the devil and ends up stealing his heart instead of him stealing hers. A story about rebirth, finding yourself and owning it despite what tragedies she may endure.
Models: Paulina Robles, Justine Voglemeyer
Photographer: Luna Bolton
Stylist: Pari Hemmat
Ashley Medel
Amor a La Mexicana
My textile print was supposed to be a placement print. I liked the print that I came up with but I wanted more from myself so it inspired me to make the print but out of embellishments. It is my interpretation of a cross.
My collection was inspired by my Mexican heritage. I was inspired by all the colors, embellishments and traditional embroidery. I wanted this collection to be simple but detailed and festive.
Photographer- Crystal Vasquez
Stylist- Baimei Tang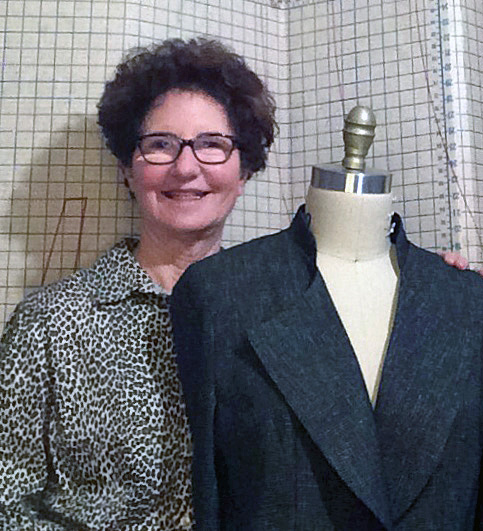 Nanette Lemma
Desert Rose
The Desert Rose collection celebrates the woman who has an appreciation for beauty and art. She keeps a wardrobe of consistently flattering colors, aiming to balance function and style.
The original textile design is a seamless repeat created with Adobe Illustrator. The coffee beans are floating on swirls of cream. Who doesn't love coffee! This is a digital print on a light-mid weight polyester twill, printed in Houston, Texas.
The studio photographs were produced by Abigail Trantham (photographer), and styled by:Kamryn Frasier, Jazmin Flores, and Thada Stokes-Small.
The looks are shown on the dress forms, until the studio photos are available.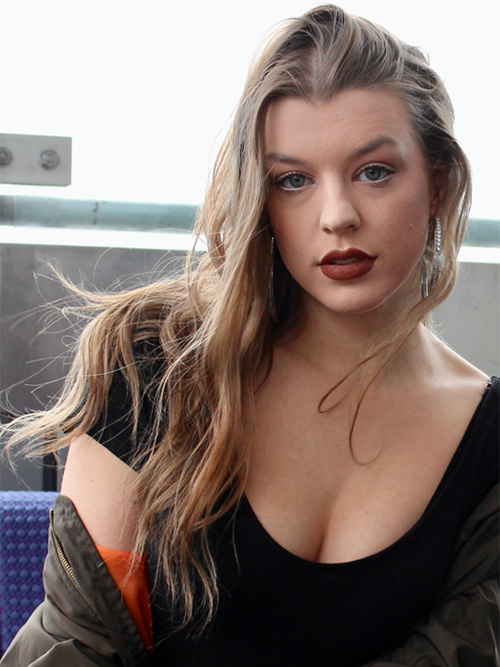 Cadence Ludden
The Rugged Collection
I was inspired to make this collection from my own collection of green Frankoma pottery that was passed down to me from my grandmother. In addition to the color, which is a beautiful sage green with hints of dark brown and terra cotta, the perfectly imperfect signatures etched in the bottom of each piece add to the gritty, nostalgic feel I love so much. These hand-crafted pieces of pottery can serve you and your family for many years, and I want my garments to do the same. Timeless, and safe. Warm, and familiar. Rough around the edges, but soft. This is Rugged.
The Rugged Roads print: Originally designed with an abstract paint stroke in mind, the colors represent trees, shrubs and rough terrains, much like a dessert. The printers recommended a different fabric choice due to the possibility of color washout, but I felt that it was a design feature that would ADD to the print and make it better, so I opted for the fabric anyways. I am very glad I did.